[September 2018] Over the summer I spent a week in picturesque South Devon with my family and the two dogs. I think we picked the only week in the summer with almost no sun. To compensate for the lack of rays, I turned to Gin. I gave the family the afternoon off and headed to the Plymouth Gin Distillery to participate in the Master Distiller's Tour and perhaps a cocktail or two.
Standing beneath the impressive stills, one of which is not in use and they are not sure what it was for, the lovely Pippa gave us the history of Plymouth Gin, intertwined with more general Gin history and the success of the brand. From the start in 1793 through the company almost disappearing and on to the turnaround we see now. Pippa was impressively knowledgeable and was not phased by any of the other people on the tour, asking questions about Gin, Plymouth Gin and the company history, whilst they moved from sober to tipsy.
We paused on our way to the tasting room, to go through a collection of botanicals conveniently in the customer lab where all the micro stills are set up for our gin making a little later. Pippa patiently explained the essential botanicals in Gin and the Plymouth Gin choices.
Continuing our journey, the tasting room was delightfully lined with hundreds of gins from the four corners of the world as well as some very rare Plymouth Gins. I recognised many but many more were new to me. I could have easily spent a day or two going through the collection. However, this was all about Plymouth Gin.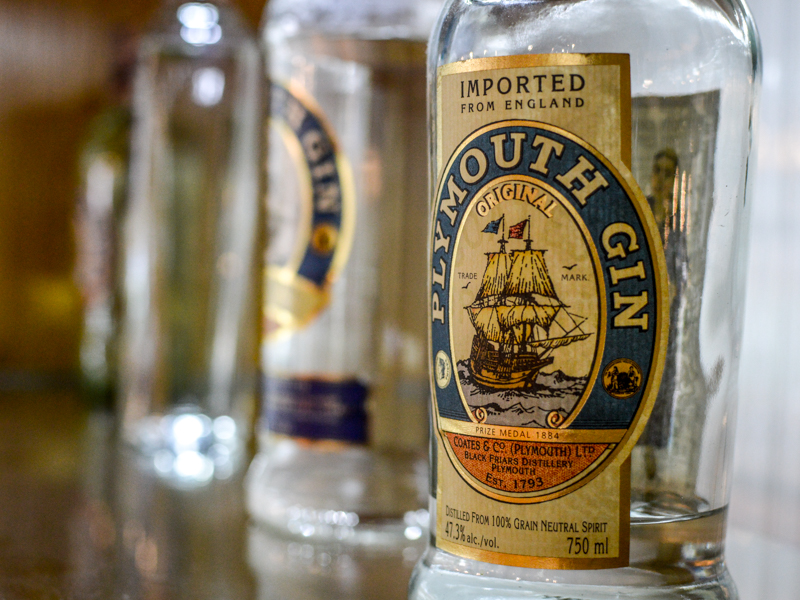 Pippa went through a little about gin tasting techniques and presented us with five gins to nose and taste.  All of the participants carefully went through each one, with the care and attention a sommelier gives to a new found wine. I shall not reveal the outcome, as that is for you to enjoy if you have the chance to visit, but suffice to say, I was surprised at my selections. Feel free to contact me on Instagram or Twitter if you want to know more.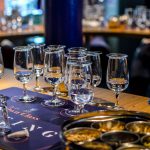 So now we were all distilling experts, knew what we want in a gin and have the expert botanical knowledge, it was time to move on to the micro stills and make our bottles of Gin. Pippa expertly guided everyone around the proportions of botanicals, as not to create a monster, in which we added to the base spirit. this cooked for a while and slowly, through evaporation etc.,  started to move its way into the awaiting beaker, before being decanted into the bottle.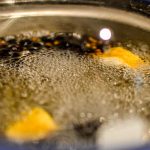 Whilst this was all happening, we were given a taste of the Plymouth Sloe Gin. Unlike many commercial sloe gins, Plymouth Gin still steeps the sloes for around four months. I make my own sloe gin and have done so for years. This is the first commercial one I have tasted that feels like a true Sloe Gin, one that was made by an elderly relative to a secret recipe that appears at Christmas.
Once we had the fresh Gin in the bottle, it was still at a crazy high ABV so a little water was added to bring it to sensible levels.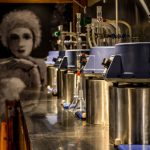 Bottle in hand, we all thanked the lovely Pippa and went our separate ways. I went to the bar. Of course.
"The Refectory" is the Plymouth Gin Cocktail bar open 'till late most days. With dozens of Cocktails to choose from, I was spoilt for choice. Remember the abandoned family? I had not. It was close to our agreed meet up time so I needed to work fast, so just the one cocktail for me.
The Gin Pennant was served in a Gurgle Fish Jug, built over rocks. It was just the job. Such a great end to a fantastic couple of hours. I shall be making this drink at some point soon but if you want to recreate it, this is the line up:
35ml Plymouth Gin Original
15ml Plymouth Sloe Gin
15ml Antica Formula Sweet Vermouth
5ml part Apricot liqueur
10ml Lemon juice
10ml Orange juice
5ml Sugar syrup
75ml Soda water
Large Mint sprig
Thin Lemon wedge
Large Orange twist
Build over ice in a tall glass and serve. Delicious.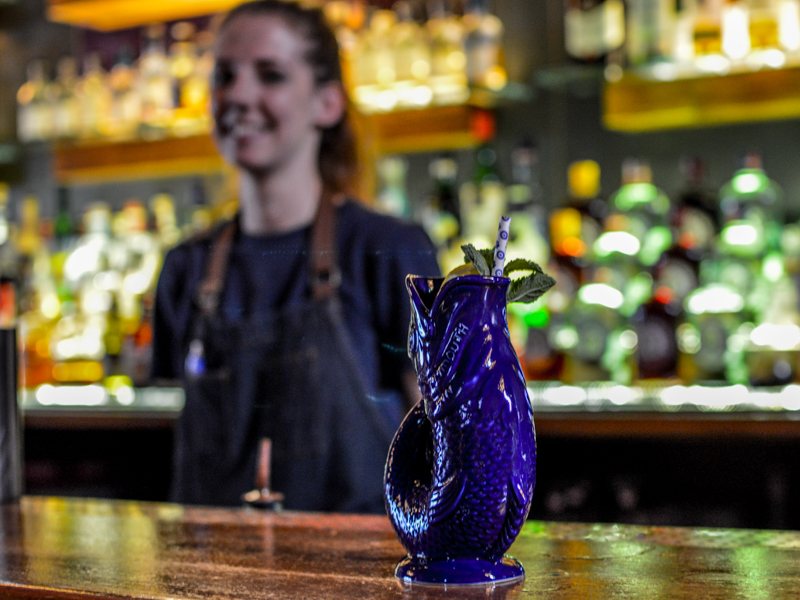 What a lovely way to spend an afternoon or evening. If you are considering a trip to Plymouth, put the distillery on your to-do list. And if you do not have the time, just pop in and grab a bottle of the excellent gin from the shop.
A massive thank you to all of the team at Plymouth Gin who could have not been nicer.
Chin-Chin
Marcus