[Decmber 2016] I am torn. Replenish or rejuvenate. I have my go-to gins. These are the gins that I really enjoy. The ones I share with others when I have my gevangelist hat on. But if I only bought these gins, how would I find my new go-to gins? So only new gins it is. But wait. Why should I deprive myself of my favourite gins just to try new? So that's settled. Keep buying the favourites. But what if there is a new favourite waiting to be discovered? I think you get it.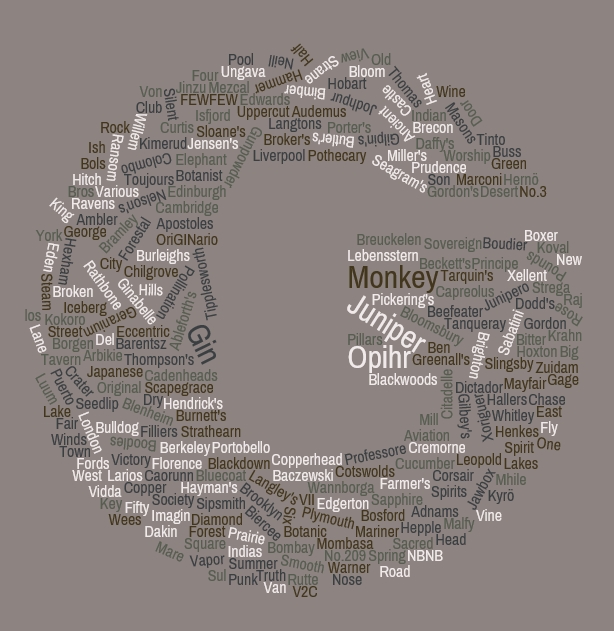 So this is the inner debate I have when looking to buy more gin. My gin budget it not unlimited so I need to choose carefully. My collection is expanding but it is now missing a few of the essential basics. It is not unlike a music collection that must contain, somewhat subjectively:
Oasis

Rolling Stones

Talking Heads

The Beatles

David Bowie

Led Zeppelin

Nirvana

Miles Davis

The Clash

Jimi Hendrix

The Who

The Smiths

Johnny Cash
I could keep going but I suspect I am already in dangerous territory. So what must always be in the gin collection? As I am a huge fan, it must always contain Opihr. Without question, Monkey 47. I have yet to meet anyone who does not like it. Then comes Bulldog, a solid robust gin. Daffy's has to be in there too. Hernö is a firm favourite. Death's Door with the amazing flavour from just three botanicals. If I write this list in a week I suspect it will change.  I have changed it several times just whilst I am writing this post.
Is there a point? Perhaps. Gin is both subjective and amazingly varied. With nearly 3000 gins available from all corners of the globe, searching for a new favourite will take some time. And when I find it, it may not be your favourite. I will keep the base stock in the cupboard but will continue to look to the new. As I do for my music.
So tell me about your base collection? Share your thoughts on Twitter or Instagram.
GinThing